Northern Colorado's craft beverage scene continues to attract due attention – and awards – with new offerings, innovation, and creativity. And it's no longer just about new brews. Here's the latest on Loveland's liquid arts landscape.
Local Whiskey: F
rom Loveland
S
oil to
Y
our
S
nifter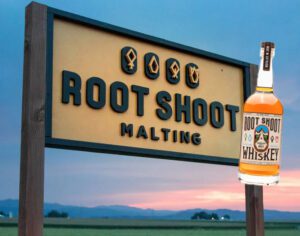 Loveland's Root Shoot Malting, a fifth-generation family farm that's been providing barley, wheat, rye and corn to Front Range distilleries for eight years, unveiled its first single malt whiskey. Named Root Shoot Whiskey, the 100 percent locally-sourced whiskey was distilled in 2018 and aged in American oak barrels for four years. It contains notes of pastry, baking spice, faint cocoa dust, minty and spicy botanicals. This local craft malting house gathered a heap of awards from the Malt Cup in March, and then won gold in September at the New York Wine & Spirits Commission for its new American single malt whiskey, five years in the making.
"This American Single Malt Whiskey expresses the craft, workmanship, and spirit of Colorado agriculture in every sip," according to the website. Bottled-in-Bond at 100 proof, this whiskey is straight from Loveland soil to your snifter.
Root Shoot Malting's decision to dip a toe into direct-to-consumer products supports the family's interest in preserving local farms; they placed a conservation easement on their 107-acre property earlier this year, forever protecting it from development.
Loveland's

New

est

B

rew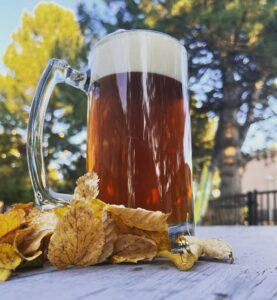 Crooked Beech Brewing, located off Highway 287, celebrated its grand opening this past summer. Owned by husband-and-wife team Jake and Michelle Jackson, the brewery is named after the beech trees that are prevalent in the southeast part of the U.S., which was their home until 2022. Jake started as a homebrewer and honed his craft working at two breweries in Maryland.
At Crooked Beech, some of the beers are served straight from the brewing vessel. Sample Gratitude, a 3.6 percent ABV American light lager that's mild and refreshing. The Weiss One is a crushable hefeweizen with clove and banana flavors. Play games like cribbage and Connect 4 inside the brewery or opt to sit in the dog-friendly outdoor area, replete with picnic tables and a climbing structure perfect for kids. Large garage doors open onto the patio creating the perfect indoor-outdoor setting for sipping Sunny Side, a 4.3 percent crisp Belgian Wit with a hint of white pepper. The taproom, located at 3121 N. Garfield Avenue, is open seven days a week. Visit the website for hours.
Loveland's Oldest Brewery

Relocates Taproom
The beloved Grimm Brothers Brewhouse taproom is moving to a new location featuring a more robust outdoor space and room to expand and diversify
a
burgeoning beverage menu. In addition to brews on-tap, the new Grimm taproom will feature wine and cocktails
, plus
new
German-
style
and American
food options
.
The faithful will also find new seating options, walls of televisions, an outdoor bar and fire pit
at the brewery's
new
Forge Campus location in southwest Loveland (816 14
th
St. SW B100). Grimm's brewhouse will remain at the Denver Avenue location.
Grimm's new owners hope to open the new taproom in late November.